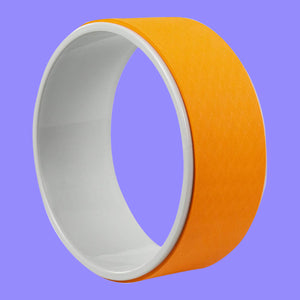 EASILY STRETCH AND ROLL OUT: Working to improve flexibility, the Vive yoga wheel provides strong support while stretching and holding yoga poses and massaging tense muscles. Rolling out on the sturdy back roller also relieves pain and tension in the neck, shoulder, back and hips.
IMPROVE BALANCE AND FORM: Properly execute demanding yoga poses with the greater precision with the assistance of the yoga prop wheel. The yoga wheel improves balance and flexibility while releasing tense muscles for greater relaxation.
COMFORTABLE NONSLIP PADDING: Lightly textured for a secure grip, the back roller is lined with dense TPE foam for greater comfort during intense sessions. The yoga wheel is moisture and sweat-resistant and will not pick up lint or dust making it easy to keep clean.
STURDY 12.5" WHEEL: Constructed with premium materials, the yoga prop wheel is exceptionally durable, supporting up to 300 pounds without flexing. The yoga roller is perfectly sized to provide safe support for most adults and is lightweight for easy portability.
VIVE GUARANTEE: Lifetime guarantee so you can purchase now with confidence.