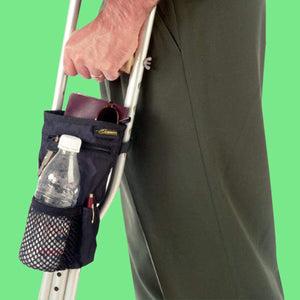 Keep essential items handy without interfering with mobility. Universal fit easily attaches to cane or crutch using adjustable hook and loop straps. Made of durable, water-resistant nylon. Available in black. Latex free.
CONVENIENT STORAGE: Keep essential items within reach, even with limited mobility. This Crutch Pouch has a universal fit that easily attaches to a cane or crutch with adjustable hook & loop straps.
VERSATILE & DURABLE: The Crutch Pouch features 4 pockets, including 1 outer pocket with a zipper closure to hold phone, beverage, keys, etc. It's made of durable, water-resistant latex-free nylon.
MOBILITY ACCESSORIES: Whether you use a manual wheelchair, power chair, walker, or mobility scooter, our accessories, packs, & pouches add useful storage & functionality that you can take anywhere.
INCREASE MOBILITY & SECURITY: Mobility solutions help you or a loved one regain confidence, freedom, & the ability to safely & independently access home or vehicle with less stress & more security.
ACCESS ANYWHERE: Our products offer an array of temporary, portable & permanent mobility solutions from toilet lifts to ramps to homecare products to walker, scooter, wheelchair & crutch accessories.