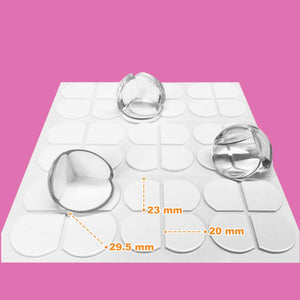 Obtain peace of mind that your loved one is not bumping and bruising on edges and corners!
Small, discrete rubberized edges for all surfaces.
✅ AUTHENTIC CERTIFIED SAFETY PRODUCT - This product should be used under adult's supervision, all our products are tested under strict US regulations. There are no phthalates, BPA, chemicals or added toxic fire retardants (SCCPs).
✅ SPECIAL DESIGN AND 1 MINUTE INSTALLATION - Our protectors are designed by Mechanics expert to protect your baby from being hurt by the corners of coffee table,desk,TV cabinets and other sharp corners in the house. And under our instructions, you can easily finish the installation.
✅ CUSTOMIZED HIGH POWER ADHESIVE - Based on most of the feedback we received, we offer a custom 1mm high power adhesive on each side of the guard , covering the interior as a whole, to prevent the guard from being teared off by the child. And it can removes the residual trace without damaging the furniture.
✅ TRANSPARENT AND SOFT - Our totally transparent protector are like a part of the furniture to keep the original look of the furniture. The improved PVC material is more flexible and provides soft bumps at the corners to reduce the likelihood of injury.
✅ LIFETIME GUARANTEE - We strive for the highest quality and best services to 100% guarantee your shopping experience. If you receive a defective corner protectors, you can send it back without conditions and get a replacement for free.