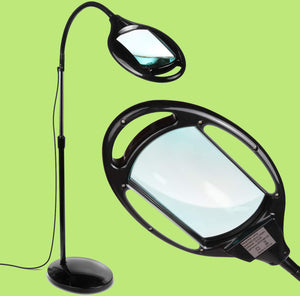 The LightView PRO Magnifier LED Floor Lamp is a great, modern & minimalist bedroom lamp for bedtime reading macular degeneration or just general ageing eyes. Avid readers adore this product because the large magnifying glass brings an entire page into focus! It also works well for knitting, sewing, stitching, illustrating, needleworking, or for soldering circuit boards, microelectronics, guitar electronics, or other detail oriented tasks! 
HANDS FREE, FULL PAGE MAGNIFIER LENS FOR YOUR COMFORT & EASE OF USE - The flexible 24" gooseneck bends to point the magnifier and light where you need it. The extra wide rectangular lens bring a full page of a book into view, and the Lightview Pro being hands free allows you to use both hands to read, perform professional tasks or enjoy crafts and hobbies. This model features 1.75X magnification with things in focus at a distance of 13 inches.
BOUGHT BY PROS & CRAFTERS: The Lightview Pro's reviews show it is used BY PROS: For doing facials, eyelash extensions, makeup and other esthetician / beautician tasks, tattoo artists, electronic design. BY HOBBYISTS: For puzzles; reading books, newspapers and crosswords; sewing, cross stitch, jewelry making, knitting, crocheting, quilting, beadwork, woodworking, repair of small electronics and soldering, painting, drawing and more.
HELPFUL FOR MACULAR DEGENERATION & AGEING EYES: Multiple testimonials from those with macular degeneration and from ageing customers show that older eyes need extra light, as well as magnification, to see details and full contrast. From reading fine print on pill bottles to seeing individual threads in a sewing project, small color nuances in a puzzle or fiddly jewelry clasps, countless activities require light and magnification. The Brightech Lightview Pro floor lamps provide this and more.